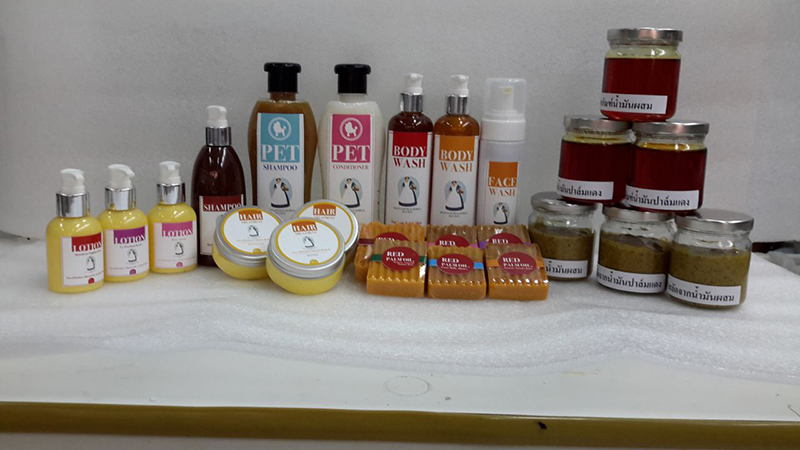 Researchers of Chiang Mai University has taken carotenoids extracted from crude palm oil, developing toward products for skin and hair. Carotenoids are efficient antioxidants and play an important role in protecting skin and hair damage caused by UV light. Carotenoids has been found most in crude palm oil. But in present, Thailand has imported carotenoids from abroad for using in food, drugs and cosmetics industries.
Since there are not appropriate technology yet for section of production of Thailand. So, team of researchers led by Associate Professor Dr. Patcharin Raviyan, Faculty of Agro – Industry, Chiang Mai University has studied appropriate process of carotenoids production and they have accomplished in inventing prototype machine of carotenoid production in level of sub-industry that has production capacity at 100 kilograms/cycle. It has been located at Mae Hia Agricultural Training, Demonstration and Research Center, Muang District, Chiang Mai Province. Concentration of carotenoids that has been produced from this prototype machine can be adjusted according to requirement. Concentrated carotenoids at higher than 2,000 milligram/kilogram those are suitable for producing food supplement and using as active nutrient in food such as chili paste, sausage, northern pork sausage in order to increase nutritional value.
For carotenoids that has concentration at around 1,000 milligram/kilogram, researchers have found that there is beneficial qualification to skin and hair in many respects such as there is high power in resisting oxidation, it has capacity in good absorbing ray of UV and rich of vitamins. So, it helps in maintaining and protecting skin and hair from destruction of antioxidant and sunlight. So, this response to needs of consumers who most care of their health according to natural path and in order to support swiftly growth of medical cosmetic care products from nature. Associate Professor Dr. Patcharin Raviyan has taken carotenoids to further develop as products those have been used with skin and hair in various types. For examples, facial nourishing serum, skin lotion, sunscreen, massage oil, shampoo, hair treatment, hair conditioner, facial foam, soap, bathing cream, shampoo for pets, and conditioner for pets. Besides, there are aroma oil, anti-mosquito lotion and dish detergent. These developed products have been formulated with extracted substances from various kinds of Thai herbs and plants in order to get suitable products for skin and hair those need different nourishment. The project of inventing prototype machine of carotenoids production has been supported by the Agricultural Research Development Agency (ARDA). The skin and hair products developed from carotenoids were awarded bronze medal in "The 46th International Exhibition of Inventions Geneva", that was held in Switzerland during April 11 – 15, 2018.